Glacier Climbing in Iceland
Iceland is often called "The Land of Fire & Ice" so our trip would've not been complete without climbing one of its glaciers. Over 10% of Iceland is covered by glaciers but they are receding every year. We hiked on Sólheimajökull Glacier which is an outlet from Iceland's fourth largest glacier, Mýrdalsjökull. Jökull means glacier in Icelandic.
​​Our hike was filled with unique sights; blue glaciers covered in blankets of snow with black lines of ash from previous volcanic eruptions. Glacier hikes should not be attempted on your own as there may be weak points and crevasses in the glacier that are covered in snow or are not visibly apparent.
​
We opted to meet the tour company, Arctic Adventures, on site at the Arcanum Glacier Cafe by the Sólheimajökull Glacier. You also have the option for pick up from Reykjavik which includes a stop to Skógafoss for an additional 5000 ISK (~$43 USD). The tour includes an optional ice climbing experience that we could not pass up. In order for everyone to have an opportunity to try ice climbing, there is a maximum of 10 people per tour.
To make us look more like true mountaineers,they gave us some crampons, helmet, harness and a bad ass ice pick. For the crampons to hold you will need to have stiff hiking boots especially for the ice climbing. We rented their mountaineering boots for an additional 1000 ISK (~$8.50 USD). Rental for snow pants was also available but we didn't find it necessary. 
Our two guides really enhanced our experience with their passion and knowledge of glaciers. As glaciers have their seasonal melts, the glacial melt water finds the weak spots in the ice and moves through the ice to form moulins. Moulins are tubular shafts carved into the glacier by melted glacier water. 
We learned great mountaineering techniques walking on the glacier, climbing through small tunnels (or moulins) and of course the highlight of learning to ice climb!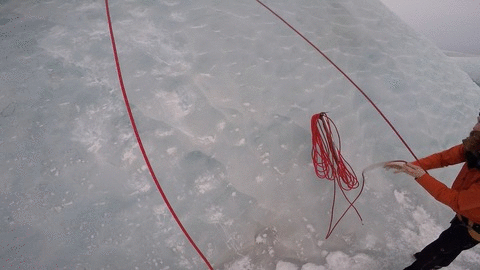 They say ice climbing is like rock climbing and in theory should be easier. This is because you're making your own holds (or in our case holes) with our crampons & ice climbing picks. In reality, it felt a little harder than rock climbing. Maybe it was from making the rookie mistake of using our arms more than our legs.  
People say that glaciers are large but you can't really wrap your head around this until you get to see them up close. It's sad that these natural wonders are receding. 
There are also other ways to see the glaciers in Iceland - snowmobile tour, glacial lagoon cruise, ice cave tour and an into the glacier tour! 
Interesting Facts
Receding glaciers happen when a glacier is melting faster than it is forming from winter snow.

The largest glacier in Iceland is Vatnajökull which is also the largest glacier mass in Europe.

Glaciers are formed when the snow layer beneath starts to compress from the pressure and weight of the snow fall on top.

The dense ice absorbs all other colours except blue light, giving glaciers a beautiful turquoise blue colour.
Photo Gallery
Please reload
Welcome to Messie Adventures! We are Mitch & Jessie. We're living on the beautiful island of Sint Maarten.
We're always trying to make the most of our time travelling when we can.
​
We hope our photos will inspire you to take your next adventure. Where are you off to next?