Visiting Iceland's Blue Lagoon
It's nearly on everyone's check list when visiting Iceland. The Blue Lagoon is arguably the most popular tourist hotspot in Iceland with over 900 thousand visitors a year!
To be honest we were unsure of what to expect whether it would live up to the hype as a few blogs have recommended skipping this stop altogether. We're glad we didn't skip this because we loved it!
What is the Blue Lagoon?
The Blue Lagoon is often mentioned in the media as a natural wonder but it is actually not natural. This does not take away from the beauty of this geothermal spa & its mineral rich waters at all so don't let this discourage you from visiting!
The lava landscape is natural but the water comes from the Svartsengi geothermal power plant nearby. The power plant harnesses the energy from geothermal water via drilling holes, as the water comes to the surface it picks up minerals such as silica. The mineral rich geothermal water forming the Blue Lagoon is a byproduct of the power plant.
Interesting Facts
Blue Lagoon is an accidental man-made wonder.

The water is actually white.

The blue colour comes from the way silica reflects sunlight.

The Lagoon contains 9 million litres of water which renews every 40 hours.
Enjoying the Spa 
The spa does have a long line up with many tour buses that come directly from the airport and Reykjavik. Keep in mind that the Blue Lagoon is not close to Reykjavik, a lot of visitors choose to come here right after their flight in or before their flight leaving Iceland. You might want to look into staying overnight at the Blue Lagoon. You can read more about our experience staying at their Silica Hotel. They are also in the process to expanding and will be opening a brand new hotel later this year.
The best way to avoid the lineups is to pre-book and purchase tickets online. There is a much shorter lineup for pre-booked tickets. Also aim to visit in the morning or before closing where there is less traffic. Winter is considered to be slower season so there are also less tourists in winter.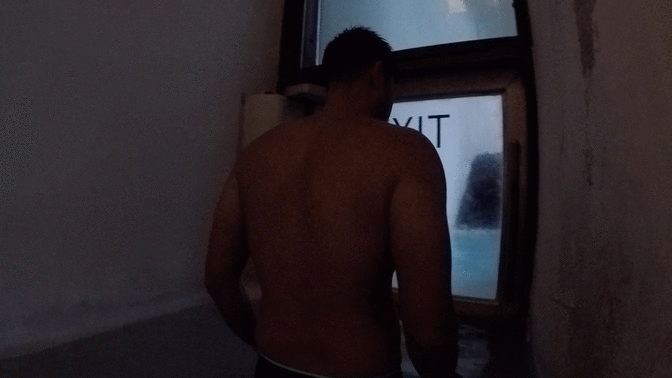 We have to say this spa is run very well! Each person is given a bracelet which you can use to purchase anything in the facility such as the algae mask, drinks & access to a locker. The bracelet will also be able to unlock your locker when you're ready to leave.
There is a restaurant, cafe and also a store, where you can purchase their signature products. They also offer additional services such as an in water massage but be sure to book in advance. If you plan to eat at the Lava Restaurant, make reservations. We tried their 3 course set meal & was impressed. Complimentary sparkling wine doesn't hurt either!
Do's
Shower first. You will need to shower without your bathing suit before entering the baths. Geothermal water is untreated so don't ruin it for someone else and just shower in the closed glass stalls available.

Conditioner is a must. You should put conditioner in your hair before entering the baths. The silica in the water may be great for your skin but can make your hair dry and stiff. I learned this the hard way at the Silica Hotel private baths. (Don't worry it's not permanent. Nothing a deep conditioning treatment can't fix.)

Try the silica mask. This is provided free of charge at the mask bar and the staff at the bar are very enthusiastic about this changing your life. You can also follow this mask with their algae mask at an additional cost or it is included if you purchase the premium package.

Bring a towel. If you are not intending to rent a robe/towel, bring your own. Just make sure it's not white!

Have a drink. Make sure you keep hydrated while you're there. There is a bar in the lagoon so just swim up.

Bring sunglasses. The water can be very reflective on a sunny day.

Enjoy the facilities. The baths are so beautiful but make sure you check out the sauna, steam room & waterfall as well.

Bring a waterproof camera/phone. The lagoon is truly a wonder and so beautiful. We saw a lot of people bring their phones in a ziplock bag and we couldn't bear to watch! Just bring a waterproof camera or put your phone in a waterproof case. It's not worth losing all your vacation photos! 
Is It Worth It?
Although the Blue Lagoon isn't the natural wonder it is often marketed to be. It's still a one of kind geothermal spa with mineral rich waters in the middle of a stunning black lava field. The spa is elegantly built and cleverly marketed for tourism.
Just ask yourself this. Do you like spas? Do you like soaking in geothermal water in a lava field? Do you like spending a couple hours in quiet relaxation? If that's what you like then the Blue Lagoon is perfect. Entrance is not cheap but it is a luxury spa experience. It certainly is not a must see for everyone but we had a good time at the Blue Lagoon and would definitely come back if we are in Iceland. I wouldn't listen to the naysayers! See this for yourself.
Soaking in hot springs and geothermal water is such a big part of Icelandic culture, so all around Iceland there are lots of opportunities to sit in natural hot springs & even their swimming pools (which is a big thing to do in Iceland) have geothermal hot baths. 
Click here for more information check out their current pricing & available packages on their website. Are you going to the Blue Lagoon on your visit to Iceland?
Please reload
Welcome to Messie Adventures! We are Mitch & Jessie. We're living on the beautiful island of Sint Maarten.
We're always trying to make the most of our time travelling when we can.
​
We hope our photos will inspire you to take your next adventure. Where are you off to next?